Come for a Visit
Contact & Directions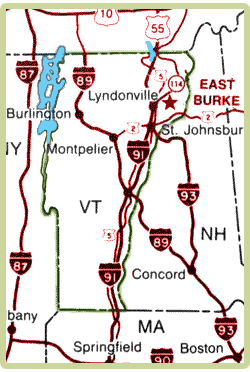 Inn at Mountain View Farm
3383 Darling Hill Road
East Burke, Vermont 05832
802-626-9924 or toll-free 800-572-4509
[email protected]
From Boston… 3 hours
Follow I-93 N to I-91 N. Take Exit 23 at Lyndonville. Follow Rte. 5 North through the town of Lyndonville to Rte. 114. Bear right onto Rte. 114 and follow for 4.4 miles. Turn left at Burke Hollow sign, bearing left to go straight up hill. At top of hill, turn left onto Darling Hill Road. Inn's entrance is immediately on the right.
From Hartford… 4 hours
Take I-91 N to Exit 23 in Lyndonville. Refer to directions above.
From Montreal… 2.5 hours
Take Autoroute10 E to 55 S to I-91 S to exit 23. Refer to directions above.
The Inn at Mountain View Farm
Book Your Stay With Us
``If your travels bring you to New England, consider the sweet indulgence of a stay at The Inn at Mountain View Farm.``
- Romantic Homes, Feature Story
Check Availability