A Darling Hill Historic Landmark
History
Since it was built in 1883, the Inn at Mountain View Farm has undergone several important historical transitions, from gentleman's working farm in the late 19th century to gracious country inn in the late 20th century and now also home of the Mountain View Farm Animal Sanctuary.
Built in 1883 as a gentleman's working farm by Elmer A. Darling, a visionary Vermonter and graduate of MIT, the Mountain View Farm was a model farm, which once supplied meat and dairy products to Mr. Darling's prestigious Fifth Avenue Hotel in New York City.
"Perched on the crest of a spectacular ridgeline, the Inn… sits amid what was once one of Vermont's most amazing, most beautiful farm estates." – Vermont Life
An impressive cow barn, once home to 100 Jersey cows, remains one of the largest farm structures ever built in Vermont, and is still a landmark for students of barn design and history.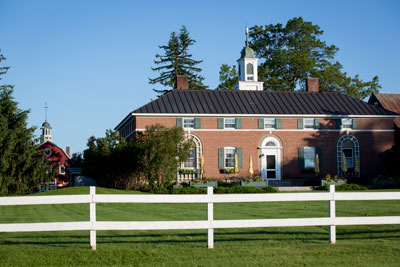 A carriage barn and stately Morgan horse barn also frame the farm courtyard. On the cupola of each barn is a weathervane that identifies how the barn was used in the last century.
The Creamery, a very handsome brick structure, is by far one of the finest in Vermont. Its steam engine, still in place in the breakfast room, powered butter churns and an adjacent grain mill.
Today, the on-site Creamery has been restored as a popular inn, featuring walking, mountain biking and gardens in the summer as well as cross country skiing and snowshoeing in the winter. The Inn is an exceptional site for weddings and receptions, business retreats and conferences.
In 1989, John Pastore, a Boston cardiologist, and Marilyn Pastore, an active preservationist, became the proud owners of the historic Farm. Since then, Marilyn has supervised the extensive restoration of the courtyard and buildings that make up the Farm.
In 2003, the farm became home of the non-profit Mountain View Farm Animal Sanctuary, founded by Dr. John Pastore and dedicated to caring for needy farm animals, especially those with a difficult past.